Indonesian Journal of Electrical Engineering and Informatics (IJEEI)
ISSN 2089-3272 is a peer reviewed International Journal in English published four issues per year (March, June, September and December). This journal is published by Institute of Advanced Engineering and Science (IAES) Indonesia Section
in collaboration with
Universitas Ahmad Dahlan and Universitas Diponegoro. The aim of Indonesian Journal of Electrical Engineering and Informatics (IJEEI) is to publish high-quality articles dedicated to all aspects of the latest outstanding developments in the field of electrical engineering. Its scope encompasses the engineering of Telecommunication and Information Technology, Applied Computing & Computer, Instrumentation & Control, Electrical (Power), Electronics, and Informatics. Since 2017, 
this journal is indexed in SCOPUS
.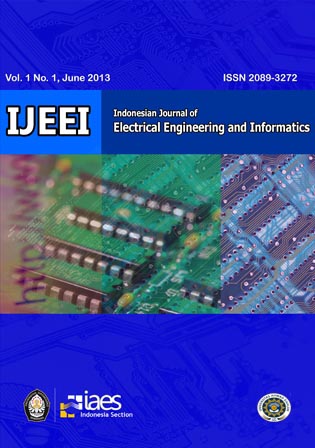 Announcements
Beware of Journal Phishing

Recently, we found that a website is trying to copy IJEEI website and want to steal your data or money.  Please be advised that the following link is NOT representing IJEEI in any way:

https://www.section.iaensonline.com/index-php/IJEEI(please notice the additional 'n' letter in iaensonline).

This internet domain is not operated nor owned by IJEEI or IAES, thus we cannot held responsible for any wrongdoing caused by the domain, email address or any of its affiliates.

We urge you to ignore any correspondence from the following email addresses: info@iaensonline.com, support@iaensonline.com or admin@iaensonline.com.

Thank you.

 

 

Posted: 2019-11-11
More...
Vol 11, No 3: September 2023 (ACCEPTED PAPERS)
This list is not final and will be frequently updated. The fullpaper will be published once it is ready.
Table of Contents
Indonesian Journal of Electrical Engineering and Informatics (IJEEI)
ISSN 2089-3272


This work is licensed under a Creative Commons Attribution 4.0 International License.